Small sized stage-top incu­ba­tor for invert­ed micro­scopes to be used in com­bi­na­tion with a Heat­ed Plate XS in any micros­cope stage that can fix mul­ti­well plates (128 x 86 mm). For the sta­bi­liza­tion of in vitro con­di­tions for cell- and tis­sue cul­tures dur­ing micro­scop­ic examination.
Description:
Example: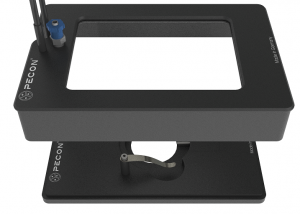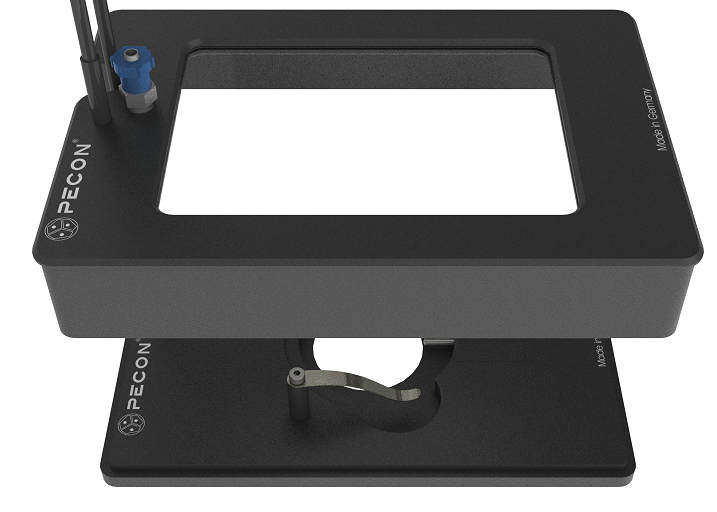 The incu­ba­tor and the plates are heat­ed separately.
The glass insert and the alu­mini­um frame of the incu­ba­tor are both heat­ed, pre­vent­ing the con­den­sa­tion of water at high humidity.
The heat­ed glass insert is per­me­able to 90% of light in the vis­i­ble wave­length range.
The incu­ba­tor is equipped with a Pt100 sensor.
The sys­tem enables a homoge­nous heat, CO2 and O2 dis­tri­b­u­tion.
Suit­able for high-resolution microscopy
If the tube con­nec­tion of the gas mix­ture inlet of the incu­ba­tor col­lides with the con­denser, the tube con­nec­tion can alter­na­tive­ly be mount­ed on the side of the incubator.
For elec­tri­cal power sup­ply and the con­trol of the tem­per­a­ture inside the incu­ba­tion cham­ber, the Tem­p­Con­troller 2000-2 or the Temp­Mod­ule S has to be used.
For the con­trol of the O2 and/or CO2 con­cen­tra­tion, a gas con­trol unit has to be used.
Specifications:
| | |
| --- | --- |
| Material | aluminium, black anodized; heatable glass |
| DC operating voltage | 24 V protective low voltage |
| Power consumption | max. 0.81 A |
| Temperatur sensor | Pt100 |
| Control range | from 0.5°C above ambient temperature up to 60°C absolut |
| Observation area (LxW) | 85 x 59 mm |
| Dimensions (LxWxH) | 127.5 x 85.5 x 23 mm |
| Weight | 144 g |